Jose Minaya
Chief Executive Officer, Nuveen, a TIAA company
Jose is responsible for Nuveen's vision, strategy and day-to-day operations. He and his leadership team set and execute key growth initiatives and provide oversight of all investment management teams and client businesses. Jose previously served as President and Chief Investment Officer of Nuveen, responsible for overseeing all investment activities for more than $1 trillion in assets. Prior to that, he led TIAA's global real assets division, responsible for setting strategy and developing our investment capabilities across real estate, agriculture, timber, infrastructure, energy and alternative credit strategies. He joined TIAA as a fixed income portfolio manager in 2004, and has more than 25 years of investment experience at firms including AIG, Merrill Lynch and JP Morgan. Jose serves on the board of the Robert Toigo Foundation, an organization that fosters career advancement and increased leadership of underrepresented talent. He is also executive sponsor for the Inclusion and Diversity initiative at TIAA, working to build and promote a diverse and inclusive environment throughout the enterprise. He graduated with a bachelor's degree in Finance from Manhattan College and an M.B.A. from Dartmouth's Amos Tuck School of Business.
Kevin Aguas
Principal Business Analyst, Economic Policy Institute at NAU
I served in the military, Army Reserve, in 1979 and was honorably discharged in 1983. I acquired my bachelor's degree in business from Bellevue College, Bellevue, Nebraska, and my master's degree from Northern Arizona University.  I spent 18 years in management with Union Pacific Railroad and 5 years in management with Pacer Stacktrain.  After taking early retirement from the transportation industry, my family and I moved to Arizona in 2002 where I started my next career as a Financial Advisor specializing in assisting individuals, and small businesses, reach their financial goals.  In 2012, this led to my employment as a Professor of Finance at Northern Arizona University. Currently, I am a Principal Business Analyst in the Economic Policy Institute at NAU in the W.A. Franke College of Business.  In addition, I have been an active member of our community as a high school football coach, as well as working with local non-profit organizations for the past 15 years.
Jesús Argüelles
Director of Investments, Irvine Foundation
Jesús Argüelles joined the Irvine Foundation as a Director of Investments in January 2019. Prior to Irvine, Jesús was a Director for the Private Capital Global Funds Team of Ontario Teachers' Pension Plan, where he sourced, evaluated, and managed new and established private equity fund opportunities in the Americas.
Earlier in his career, Jesús served as a Portfolio Manager in the Private Equity (PE) Program with the California Public Employees' Retirement System (CalPERS). During his time at CalPERS, he invested across the private equity spectrum – from venture capital to distressed debt fund investing. He was also a member of the senior leadership that managed the PE Program's team and organizational development.
Jesús served as Chair of the Emerging Market Private Association's Limited Partner Council, lectured as Practitioner Faculty at the Latin America Private Equity Association's Private Equity Executive Program, served as Co-Chair of the Principle for Responsible Investment's Private Equity Advisory Council, and was a board member of the Institutional Limited Partners Association.
Jesús earned his Bachelor of Science in Managerial Economics from the University of California, Davis.
Corinne Tapia Babcock
Appointed Commissioner, Los Angeles Fire & Police Pensions (LAFPP)
Corinne Tapia Babcock has served on the LAFPP board of commissioners since 2014. From 2017 to 2018 she was elected by her peers to serve as board Vice President, and from 2018 to 2019 served as the board's President. She was recently re-appointed by Mayor Eric Garcetti, to serve as a Commissioner through 2024.
Corinne is the Managing Broker and Owner of Five Heights Realty Corp., an independent real estate brokerage company  specializing in residential, multi-unit investing, and retail leasing for the small business owner. Additionally, she is the founder and Principal of Cova Partners, LLC, a certified women, minority and small business enterprise, providing critical back-office support for companies interested in providing their trade, service or product on construction projects in the greater Los Angeles area
Corinne earned a B.A. from Georgetown University, and a certificate in real estate with a concentration in investments from the University of California, Los Angeles. She has also participated in the University of Southern California's Ross Minority Real Estate Program and the Coro Fellowship in Public Affairs.
Corinne is an avid golfer, and member of the Latina Golfers Association, who awarded her the "Breaking the Glass Ceiling" award for achievements in business on-and-off the golf course. She currently lives in the Northeast Los Angeles neighborhood of Hillside Village (El Sereno) with her husband, Jason, and their chocolate Labrador, Baja.
Ophelia Basgal
Consultant, UC Berkeley Terner Center for Housing Innovation
Senior Executive Consultant, InclusionInc.
Ophelia Basgal is currently a Consultant at the UC Berkeley Terner Center for Housing Innovation and Senior Executive Consultant for InclusionInc., a diversity and inclusion consulting firm.   She was the Region IX Regional Administrator for the Department of Housing Urban Development (HUD) from 2010-2016.  Prior to this position, she was the Vice President for Community Relations at PG&E from 2005- 2010 and Executive Director of the Alameda County and Dublin Housing Authorities from 1978-2005.
Ophelia has a BA with Distinction from Arizona State University and Masters in Social Welfare, with a specialty in Administration, from the University of California, Berkeley.   She is an active member in the community serving on the Boards of Trustees of the San Francisco Foundation where she is Vice President, Mills College and the Alameda County California Employees' Retirement Association, an $8+ billion public pension fund.  She is also on the advisory boards of the Public Policy Institute of California and the UC Berkeley Goldman School of Public Policy.
Sasha Bernier
Senior Investment Analyst/Vice-President, Cheltenham Investments (SFO)
Sasha Bernier is a Senior Vice-President and Investment Committee member of Cheltenham Investments, a single family office focused on investing in both debt and equity primarily in real estate opportunities and lower middle market companies.
Mr. Bernier formerly served as a Vice President of Revere Capital, a real estate debt fund with the responsibility for underwriting and structuring new investment opportunities in the real estate debt space.
Sasha Bernier has also worked at investment funds GSC Group, a credit focused hedge fund, and Barrington Capital, a debt and equity event driven hedge fund.
Mr. Bernier graduated from the University of North Carolina at Chapel Hill with a BS in Business Administration and a JD from the University of Pennsylvania Law School.
Andre Bueno
Principal, The Bueno Group
Growing up as an apprentice in the construction trades, Andre grew up fascinated with owning and building commercial investments. By 2006 he took over a 3 building portfolio which he managed and operated until 2014 before going off to establish Bueno Group.
In 2015 Bueno Group became a single family office and since he has led in the design, build, operations, financing, management, and technology of over 25 projects around the country.
From University anchored projects in the Midwest to Shopping Mall redevelopments in Southern California— Bueno Group will be focused on reimagining communities of color.
As of 2020, Andre is raising $250 Million to redevelop distressed assets via public-private-partnerships. The purpose of this vehicle is to deliver impact on a social level addressing themes such as affordable housing, workforce & economic development, and environmental sustainability.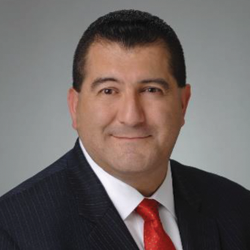 Martin Cabrera, Jr.
Chief Executive Officer, Cabrera Capital Markets, LLC, Cabrera Capital Partners, LLC
Martin Cabrera is the CEO and Founder of Cabrera Capital Markets (CCM). CCM provides global investment banking and full service global institutional brokerage services to a substantial and diversified client base that includes financial institutions, unions, governments, corporations, hedge funds, foundations and endowments. CCM has issued over $330 billion in debt for municipalities and over $400 billion in debt and equities for corporations throughout the country and internationally.
Martin is also the CEO and Founder of Cabrera Capital Partners (CCP). Cabrera Capital Partners provides national real estate investment advisory services. Cabrera Capital Partners' experienced team of professionals has a significant history of acquiring and developing commercial real estate in excess of 60 projects totaling approximately 35 million square feet resulting in an aggregate property portfolio in excess of $3.5 billion (USD) in gross asset value.
Martin has over 25 years of investment experience. He earned a Bachelor of Science degree in Finance from Northern Illinois University and studied at the London School of Economics.
Martin currently serves as a Board Member at Chicago Community Trust, Member of the Archbishop's Finance Council and Chairman of the Real Estate Committee for the Archdiocese of Chicago, Chairman of the Endowment Committee at St. Ignatius College Prep, Governing Board Member at Econ Illinois, Board Member of World Business Chicago and Former Chairman of the Chicago Plan Commission.
Scott Chan
Deputy CIO, CalSTRS
Mr. Scott Chan is the Deputy Chief Investment Officer of the California State Teachers' Retirement System, where he leads a staff of over 170 investment professionals. Prior to CalSTRS, Mr. Chan was the Senior Managing Director of the $55 billion Global Equities portfolio at University of California Regents. Before joining the Office of the CIO of the Regents, he was CIO of Sacramento County Employees' Retirement System, SCERS, from 2010-2015. Prior to SCERS, Mr. Chan was a partner, co-founder and portfolio manager for several equity hedge funds. He began his investing career in equity research covering technology stocks at JP Morgan Securities in 2000. Mr. Chan and his prior investment teams have been recognized as thought leaders by various industry sources, including: (1) Awarded 2014 Industry Innovation Award by aiCIO (2) Nominated CIO of the Year by Institutional Investor 2014, (3) Nominated Small Public Fund of the Year by Institutional Investor 2013, (4) Named to aiCIO Power 100 List in 2013 and 2014, and (5) Awarded Rising Star of Public Funds by Institutional Investor 2012. Mr. Chan graduated from UCLA with a B.A. in Economics and earned an M.B.A. from the Fuqua School of Business at Duke University.
Thomas Clancy
Chief Investment Officer, CFA CIO Pennsylvania Treasury
In over two decades of professional experience, Thomas Clancy is proven to be a dauntless leader, an exceptional analyst, and a man of integrity.  An adept allocator, his management of $25B in multi-asset portfolios has earned recognition from Morningstar.  Managing the cash and custody of over $115B in assets and a team of 25 employees has proven him to be an exceptional operator. With analytical skills honed as a quantitative analyst, for Thomson Reuters, he built cash flow and valuation models that successfully navigated the Great Financial Crisis and its aftermath.  Mr. Clancy taught Social Ethics at a New York City high school, is a CFA Charter-holder, and attended St. Joseph's and Harvard universities. He is currently a trustee of PA SERS, PA PSERS, PMRS, and 3 Insurance Trusts.
Janet Raye Cowell

CEO, Girls Who Invest; Former North Carolina State Treasurer
Janet Cowell is CEO of Girls Who Invest and a Corporate Director. She was North Carolina State Treasurer from 2009-2016.
Girls Who Invest (GWI) is a non-profit with the mission of bringing more women into portfolio management and financial industry leadership. Cowell serves as the independent chair for IFM's Global Infrastructure Fund (~$25 bn) Investor Advisory Committee, and as a director on the boards of James River Group Insurance (NASDAQ: JRVR) and Channel Advisor (NYSE: ECOM).
Cowell held publicly elected office in North Carolina for fifteen years, including eight as State Treasurer. The first woman elected Treasurer, she managed over $100 billion in assets, and health and retirement benefits, for over 900,000 members.
Cowell is a graduate of the University of Pennsylvania and earned her MBA and MA in International Studies from the Wharton School of Business and the Lauder Institute. She chairs the Executive Education Board of the Wharton School of Business.
Caroline Greer

Managing Director, Chartered Investment Manager (CIM®)
Caroline Greer is a member of the Commonfund Asset Management Investment team and is primarily responsible for the design, tailoring, and implementation of custom investment solutions for clients through asset allocation recommendations, portfolio oversight and analysis, and tactical rebalancing of client portfolios. Caroline currently serves as the inaugural Chairperson of the Commonfund Diversity and Inclusion Office and is also a member of the Commonfund Asset Allocation Committee. Previously, Caroline focused on hedge fund manager due diligence and portfolio management. Prior to joining Commonfund, she served as a Partner and Principal for Contego Capital Management, LLC, specializing in customized funds of hedge funds. She was responsible for sourcing, evaluating and monitoring hedge fund managers across a full range of strategies. Prior to joining Contego, Caroline was a Senior Vice President for Oppenheimer and Co. where she co-managed their funds of hedge funds program and monitored Oppenheimer's private equity fund. Caroline began her career at Montrose Advisors, a boutique financial advisor specializing in managing customized funds of hedge funds and private equity and venture capital portfolios. In 2015, Caroline was named one of the 50 Leading Women in Hedge Funds globally by The Hedge Fund Journal. Caroline received a B.A. in Political Science from the University of Toronto, and an M.A. and M.Phil. from Columbia University of New York.
Arthur R. Guimaraes

Chief Operating Officer, UC Investments
Arthur is Chief Operating Officer at the $125 billion University of California Office of the Chief Investment Officer of the Regents (UC Investments). He has managed the $25 billion defined contribution plan and in 2018 was awarded the Innovation award by Pension and Investment and the Defined Contribution Institutional Investment Association. He joined in 2014.
Arthur joined UC Investments from Alberta Investment Management Corporation (AIMCo) in Canada.  There he led Operations and managed a transformational, technology program of change known as 'AIMCo Innovations'. He has more than 15 years of experience in asset management including at Manulife Financial.
Arthur is passionate about diversity and inclusion. He is a member of the Portuguese Diaspora Council, a global network appointed by the President of Portugal and serves on the board of The Practice Space, a non-profit with a mission of creating diverse and inclusive communities. He has also served on several education boards in both Canada and the US.
Arthur holds a BBA from the Schulich School of Business at York University in Canada, where he graduated with distinction and has taught in the BBA and MBA programs.  He has also served as an instructor for the Institute of Chartered Accountants of Ontario as a CA, CPA.
Al Hemmingsen

Chief Investment Officer, Parkland Management Company
Al is currently the Chief Investment Officer of Parkland Management Company, a single family investment office. Formerly he led the research team at Highland Consulting Associates, an institutional investment consulting firm serving corporations, endowments, foundations and high net worth investors. His career began at Morgan Stanley Investment Management.
Martha Hernández

CEO, MadeBos
Martha Hernández is the founder and CEO of madeBOS, Inc., a career pathing talent app. Martha made a bold move and quit her job as an Executive of Talent to invest all her time into madeBOS.com. Martha is an Oakland native and Chavinda, Michoacan.
Martha received her Bachelor's degree in Sociology and Spanish Literature from Occidental College. She later became a graduate of Mills College Institute for Civic Leadership Program, as well as Management Leadership for Tomorrow, and the Coro Fellows Program in Public Affairs. Most recently, Martha completed an AI Business Strategy certification from MIT.
Martha recently became a best selling author. Her book "I Have What it Takes" now at Target, Amazon and Barns & Noble is a combination of stories and principles aimed at igniting underrepresented and underresourced talent's natural leadership. Martha is a boxing trainee and a talented singer and songwriter. Known as Martha Soledad, she released her first album "Prefiero Mandar en Falda" featuring her own corrido to inspire political action on gender equity and inclusion.
Dana Johns

Senior Portfolio Manager, Senior Portfolio Manager 
Ms. Johns joined the Maryland State Retirement and Pension System in June 2011 and is a Senior Portfolio Manager in the Private Equity Group.  Ms. Johns has over 15 years of investment experience and managing a global portfolio of institutional alternative investment assets. Ms. Johns has expertise and highly developed personal networks with top performing private equity and venture funds.
Ms. Johns was recently included on Trusted Insight's 2020 list of Top 30 Pension Private Equity Investors. Ms. Johns is co-President of the Private Equity Women Investor Network (PEWIN), and a member of both ILPA's Diversity & Inclusion Advisory Council and the SEO Alternative Investments Limited Partner Advisory Council. In 2018 PEWIN awarded Maryland with the 2018 Limited Partner award for Ms. Johns' work in transforming the private equity industry with a focus on diversity and inclusion. Continuously invited to key note at conferences including the AIF Institute Global Investor Series, Women's Private Equity Summit, Women's Alternative Investment Summit, GCM Grosvenor Consortium, Markets Group Private Equity US Forum, Kayo Private Equity Conference, Pension Bridge, Emerging Manager Connect, Equity Summit, Hispanic Heritage Foundation Investor Group, Institutional Investor Private Equity Summit, SEO  and NVCA. Most recent panel topics included private equity terms & trends, portfolio construction, developing fund managers, diverse fund managers, diversity and inclusion, and venture capital.
Ms. Johns has both a B.A. in Comparative Literature from Indiana University Bloomington and a B.S. in Computer Info Systems, Magna Cum Laude from Stevenson University. She graduated from Loyola University Maryland with a master's in finance while working full time as an associate at Camden Private Capital, a private equity fund of funds. She has completed the ILPA Institute's Private Equity Executive Education program.
Henry Jones

President, CalPERS Board of Administration
Henry Jones is serving his fourth term on the CalPERS Board of Administration and his second one-year term as president. Prior to being elected president, he served three years as vice president of the board.
He retired in 1998 from the Los Angeles Unified School District (LAUSD) — the second largest in the nation. As chief financial officer, he oversaw LAUSD's $7 billion annual budget. He also headed their Annuity Reserve Fund Board overseeing the pension fund for 7,000 schoolteachers and administrators.
Henry currently serves as a personnel commissioner for the Los Angeles Community College District. He is a member of the governing board of the Robert Toigo Foundation, a nonprofit organization that encourages minorities and women to pursue careers in finance. He also serves on the board of the Pacific Pension & Investment Institute, an educational organization that assists pension funds, corporations, financial institutions, and endowments worldwide with their fiduciary responsibilities, particularly in Asia and the Pacific region.
Previously, Henry represented CalPERS on the Advisory Council of California All, a nonprofit organization focused on closing the achievement gap from preschool to professional careers in law, financial services, and technology.
He has served on the board of directors for Community Partners, a nonprofit organization that works with social entrepreneurs, grant makers, and civic leaders to design solutions, foster, launch, and sustain initiatives for change.
In addition, he was the state finance chair for the Association of California Schools Administrators; treasurer for the National Council of Institutional Investors; chairman of the Los Angeles Schools Federal Credit Union; business development executive for IBM Business Consulting Services; and principal consultant for PricewaterhouseCoopers.
Henry also served as an adjunct professor at California State University, Los Angeles.
He has a bachelor's degree in business administration and finance from California State University, Los Angeles
Joncarlo R. Mark

Founder, Upwelling Capital Group LLC
Joncarlo R. Mark is founder of Upwelling Capital Group LLC, an investment adviser that provides capital solutions to premier institutional investors.  Prior to forming Upwelling in 2011, Joncarlo was a Senior Portfolio Manager in the Alternative Investment Management (AIM) Program at the California Public Employees Retirement System (CalPERS).  CalPERS is the largest US public pension fund, with over $300 billion in overall assets.   From 2007 to 2010, Joncarlo served as Chairman of the Board for the Institutional Limited Partners Association (ILPA), whose 250-member institutions at the time managed more than $1 trillion of private equity capital. He continues to serve as a faculty member for the ILPA Institute, which provides executive education to its membership.  Joncarlo is currently a trustee for the University of California Davis Foundation, having served as chairman of the Finance and Investment Committee from 2017 to 2019.  From 2012 to 2018, he was also on the Board of Directors for AltExchange Alliance, an industry group dedicated to implementing standardization of financial reporting in private equity.  Prior to joining CalPERS in 1999, Joncarlo spent six years with Premier Farnell PLC, a global industrial products manufacturing and distribution company.  Joncarlo earned an MBA from the Graduate School of Management at the University of California Davis and received a BA from the University of California San Diego.
Belinda Martinez Vega

Trustee, LAFPP
Belinda Martinez Vega focuses her practice on complex commercial litigation, including matters involving unfair business practices, securities litigation, intellectual property, contract disputes, and fraud. Belinda also counsels clients on corporate compliance and conducts internal investigations in response to government inquiries and allegations of misconduct. She has been actively involved in handling litigation and providing confidential pre-litigation advice for entertainment clients defending against sexual harassment charges.
Israel Muñoz

Investment Analyst, Illinois State Treasurer's Office
Israel received his B.A. in Economics from Fordham University in New York City. He is currently an Investment Analyst with the Illinois State Treasurer. In this role, he focuses on working with financial institutions owned by Minority, Women, Veteran and People with Disabilities (MWVD) seeking to do business with the Treasurer.
Prior to this, Israel was an apprentice at Chingona Ventures, a seed stage venture capital fund focused on investing in startups with diverse founders. He is also a former Fulbright scholar, having participated in the Binational Business Program in Mexico City.
Israel was born and raised in Chicago's south-side, after his parents immigrated from Mexico. In his spare time, Israel is passionate about supporting Latino entrepreneurs and helps lead Angeles Investors, a Hispanic and Latinx-focused angel investor network.
Stacie Olivares

Member of the Board, CalPERS
Stacie Olivares is serving her first appointment to the CalPERS Board of Administration. She was appointed as the board's insurance industry representative by Gov. Gavin Newsom in August 2019.
Stacie served as the Senior Advisor on Impact Investment and Blockchain at the State of California. She was developing democratized and decentralized impact investment models based on emerging blockchain technologies.
From 2011 through 2017, Stacie was the Managing Director and Chief Investment Officer of the California Organized Investment Network (COIN), an impact investment fund directing insurance company capital in investments that yield competitive financial returns and environmental or social benefits to California's underserved and rural communities. During her tenure, the value of insurers' COIN holdings more than quadrupled from $6.6 billion at the beginning of 2011 to approximately $28.6 billion at the end of 2017.
Building ventures and investments that yield strong social and environmental impacts is Stacie's passion. Her career spans the private and public sectors across the areas of finance, economics and mobile technology. Prior to joining COIN, she worked at Morgan Stanley in portfolio management and financial advisory services. Before working on Wall Street, Stacie served as the former Executive Director of the State of California's economic advisory board, the California Commission for Economic Development. She came to the State from Palm, where she led licensee business development and account management for the tech company's top clients.
Stacie is an alumna of the University of California at Berkeley and Harvard University. She and her husband, Marcus, live in Southern California with their sons, Nicholas and Sebastián.
Eraina Ortega

Board Member, CalPERS
Eraina Ortega was appointed Director of the California Department of Human Resources in March 2019 by Governor Gavin Newsom. She previously served as Inspector General at the California Department of Transportation and as Chief Deputy Director for Policy at the California Department of Finance.
From 2008 to 2013, Ms. Ortega worked at the California State Association of Counties (CSAC) as Senior Legislative Representative and she served from 2001 to 2008 as Manager and Legislative Advocate for the Judicial Council of California. Previously, she was a fiscal and policy analyst for the Legislative Analyst's Office (LAO).
Ms. Ortega earned a Master's Degree in Public Policy from the John F. Kennedy School of Government at Harvard University and a Bachelor's Degree in Political Science from the University of California, Irvine.
Tina Padilla

Board Member, Chicago Teachers' Pension Fund
Tina Padilla is a National Board Certified, mathematics teacher with more than 30 years of experience teaching in the Chicago Public Schools. A three-term Trustee, she was elected to the Chicago Teachers' Pension Fund Board of Trustees as a representative of active teachers in 2011. Padilla has served as the Board's Financial Secretary, and currently chairs the Board's Investment Committee and serves on the Personnel and Technology Committees. A lifelong resident of Chicago's northwest side, she is a graduate of Prosser Vocational High School. Padilla earned a bachelor's degree in mathematics from Northeastern Illinois University, a master's degree in mathematics from DePaul University and an MBA, area of concentration was finance, from the Keller Graduate School of Management. She also worked as a licensed mortgage broker for over ten years.
Padilla is a member of the Chicago Teachers Union (CTU) and has served as a District Supervisor, union delegate, Sargent of Arms, and several other committees including Pension and Insurance, Women's Rights, Curriculum, Legislative and Political Action Committee. She is a member and delegate of the Illinois Federation of Teachers and the American Federation of Teachers. Other memberships include the Coalition of Labor Union Woman CLUW and of the National Council of Teacher of Mathematics. As the sponsor of the Aztlan Club, Young Life, and the Knit & Crochet Club at Lane Tech High School. Trustee Padilla is working to promote social service, ethnic pride, and respect for diversity. She is currently involved with the CTU Latinx caucus to promote unity and equity among all people of color.
Padilla has written and received several educational grants for her mathematics-tutoring lab. She established a summer-gifted program for incoming first-year students and authored two mathematics curricula. She was inducted into the Hall of Fame Prosser Vocational High school, receiving a Lifetime Achievement Award for Outstanding Performance and Dedication in Education in 2011.
Currently, Padilla is teaching Middle school math at Lowell elementary in the Humboldt Park community of Chicago. She states that it is "a dream to work with middle school students in a community she is intimately familiar with, and I am grateful that my dream has become a reality."
Robert Raben

President and Founder, The Raben Group / Diverse Asset Manager Initiative
Robert Raben, and the people who have joined him in the unique public policy/communications firm he created, works to drive public policy in a humane direction; to bring diversity and equity to the boardrooms, think tanks, and corporations of America; to create a fair judiciary; and to influence legislation that will broaden civil rights, reform our criminal justice system, and improve education for all our children.
Robert's near 30 years of professional experience as an attorney, senior Hill staffer, and Assistant Attorney General include seven as counsel on the House Judiciary Committee, fighting some of the toughest battles on civil rights, crime, and civil liberties. He was appointed Assistant Attorney General under Attorney General Reno and President Clinton, after a unanimous confirmation vote by a Republican-controlled Senate. He serves on the boards of The Joint Center for Political and Economic Studies, President Obama's My Brothers' Keeper Alliance, and the Hispanic National Bar Association. He has also founded Hispanics for a Fair Judiciary, the Friends of the Museum of the American Latino, Green 2.0, Committee for a Fair Judiciary, and the March on Washington Film Festival.
Robert is a native of Miami, and a graduate of the Wharton School and the New York University Law School.
Timothy A. Reese

Founder and CEO, Forge Intellectual Capital, LLC
Tim is a serial entrepreneur with almost three decades of experience in team building, strategic execution, and governance within the venture and private equity, and technology markets. He has devoted his career to causes that focus on social issues through finance to broaden wealth opportunities. Tim has a diverse range of executive level management and sales skills in corporate, institutional finance, and business startup environments with significant expertise in investments and operations.
Tim is the Founder and CEO of Forge Intellectual Capital, LLC a consulting firm providing strategy and advice to managers, asset gatherers, and CFOs in the Private Equity and Public Finance sectors. He leads the investment strategy practice at Forge. From 2015 to 2017, Tim served as the Treasurer of the Commonwealth of PA.  He was the investment chair with direct responsibility for a $20 billion investment portfolio. Under his tenure, current assets under management increased to historic highs and he was awarded another $2 billion in assets to manage. While in office, Tim created an Emerging Manager and Impact investment program with a total committed capital of $700 million. During a fractured political environment, Tim demonstrated exceptional leadership and the ability to build consensus by successfully guiding a $90 billion annual operation.
From 2000 – 2015, he led a private debt and equity investment practice into lower and middle market companies in the pharmaceutical and technology markets partnering with Perella Weinberg Partners and Morgan Stanley. Prior to this, as a CXO, he built out the sales and operations of three North America based tech companies in the lower and middle market, which were later acquired or rolled up by CDW, Red Hat, and AEP Networks.
Tim's Board experience includes Ben Franklin Technology Partners of SE PA. He is an independent director at Farol Asset Management and the National Association of Corporate Directors (NACD). His prior board experience includes Delaware River Port Authority, Commonwealth of PA Teacher and Employee's Pension Boards, and U.S. Securities and Exchange Commission.
He holds FINRA licenses Series 7, 79, 52, and 63. Tim earned a B.S. in Electrical Engineering and Electronics Technology from Temple University and was a Fellow at the Temple University Fox School of Business.
Luis R. Sanchez

Senior Vice President, Adelante
Luis R. Sanchez is Senior Vice President, responsible for company-specific research and portfolio strategy. Mr. Sanchez joined the firm in April 2005. He has over 33 years of experience in the commercial real estate lending markets.
Prior to joining Adelante, Mr. Sanchez was a Principal at Prudential Mortgage Capital Company, LLC, a subsidiary of Prudential Financial. He received his B.S. in Architectural Engineering from The University of Texas at Austin and an M.B.A from the University of Southern California.
Captain John Serda

Trustee, PFRS of Detriot
John Serda is currently a Captain of the Civil Rights Division of the Detroit Police Department and managing a Joint Criminal Investigative Task Force. He is currently managing our COVID 19 Command Post and COVID 19 Rapid Testing. John holds 26 plus years service in the Detroit Police Department.
Prior to becoming a police officer, John employed by the City of Detroit Law Department as a Staff Attorney. He served in the U.S. Navy, Active Duty 2 ½ years, and 4 years active reserves as a Hospital Corpsman. Currently he is the President of the Hispanic Police Officer's Association of Michigan, Detroit Chapter (HPOAM).
He is currently on the Boards of: Southwest Detroit Business Association (SDBA), Bridging Communities (Advisory Board Member), Detroit Police Benefit and Protective Association (DPBPA) Chairman, Detroit Police and Fire Retirement System, Elected Trustee (PFRS) Elected Trustee and The Hispanic Police Officer's Association of Michigan, Detroit Chapter, President.
He also maintains active with mentoring at Bennett Elementary School, Detroit, Michigan, Pitch, Hit and Run Contest, a MLB sponsored annual event, and helps with scholarships through HPOAM. He received a B.A. Law degree from Wayne State University.
Eren Shultz

Portfolio Manager, Westchester, a TIAA company
Eren joined Nuveen's parent company, TIAA, in 2015 and is a portfolio manager within the firm's farmland investment group, Westchester. Eren leads the development of new investment products, go-to-market strategy, and product distribution for the Westchester portfolio management team. He is also involved in the management and optimization of existing portfolios.
Prior to Eren's current role, he was a member of the firm's natural resources investment group, where he focused on agriculture and was responsible for investment analysis, portfolio optimization, market research, and ESG reporting and analysis. Before joining the firm, Eren worked at Homestead Capital, a U.S. farmland-focused private equity group, and held a research fellowship studying models of cooperative agriculture in emerging markets.
Eren studied Economics and Environmental Science at Hamilton College, where he graduated magna cum laude and Phi Beta Kappa. He is an alumnus of AmeriCorps National Civilian Community Corps and was awarded a congressional gold medal for his service.
Robert Sinclair

CIO, Private Family Office
Robert serves as the Chief Investment Officer of a private family office where he is charged with evaluating investment and co-investment opportunities. Chief Investment Officer of DevCarrera, a Canadian Real Estate Developer. Additionally, he serves as a senior advisor to the CEO of Louisiana 23 Development Company, establishing relationships of potential investors and evaluating project related risks. Robert is also on the Advisory Boards for both Terra Firma, Operation Water and CrowdSmart. Terra Firma & Operation Water are both NGO's with the goal of delivering critical water infrastructure to developing communities in emerging countries. CrowdSmart, is a pioneer in the application of prediction science for a Startup investing, combining world-class artificial intelligence (AI) and a global community of Member Evaluators.
Marco A. Soriano

Partner and CIO, The Soriano Group & Family Office
Marco is Partner and Chief Investment Officer at the Soriano Group Family Office, a leading consortium of global enterprises some privately-held with offices in the United States, Europe, LatAm and Asia. His key strategic experience involved: Domestic and cross-border private equity-backed and strategic mergers and acquisitions involving private and publicly-listed companies; Private equity and venture capital fund formation & management; Shareholder activist matters, including Advisory Board Memberships, Public offerings and private placements of equity securities; Global Business Development, and Venture capital investments.
Over the course of my career, Marco had the privilege of leading a number of the world's most recognized mergers, acquisitions, public offerings and fund formation transactions resulting in multi-billion dollars transactions.
He frequently serves as a featured speaker at prominent conferences throughout the world on topics involving private equity, M&A and asset management, and as a resource for leading television shows and publications including Fox News, Fox Business, Nasdaq, RBN, CNBC, The Wall Street Journal, Bloomberg. In addition, I've authored many articles that have been published in books, well-known journals and periodicals relating to private equity, M&A, board fiduciary duties and asset management.
Most recently he is the Founder of two enterprises: SORIANO MOTORI CORP an EV manufacturing b-to-c multi-national & AIRSTAYZ a travel tech and findtech platform for all travelers and hoteliers. He's become a partner in a 2 billion AUM real estate platform for distressed assets in the hospitality sector called URBAN COMMONS FUND.
Prior to joining The Soriano Group, Marco served as a VP at Goldman Sachs Private Banking side in London, UK and The World Bank Group as a Senior Financial Analyst under the Special Representative to the United Nations.
Rekha Unnithan
Co-Head for Impact Investing, Nuveen
Rekha is the Co-Head for Impact Investing. Rekha was an early visionary and established the intentional and leadership impact investing platform for TIAA, and is responsible for determining Nuveen's impact investment strategy across sectors, asset classes, and regions. Rekha is responsible for managing impact investments to execute Nuveen's commitment across thematic areas of Affordable Housing, Inclusive Growth and Resource Efficiency.
Prior to joining Nuveen in 2012, she worked for Bank of America Merrill Lynch as a vice president in Institutional Investment Group. She has also held various positions at Merrill Lynch in Institutional Investments, and Investment Oversight and Risk Management.
Rekha graduated with a B.A. in Economics from Yale University and an M.B.A. with a specialization in Financial Instruments and Markets and Social Innovation and Impact from New York University's Stern School of Business. She holds the CFA designation. Rekha is a board member of Aeris, a non-profit organization that helps investors make and monitor mission investments, and serves on the advisory board of the Global Impact Investing Network's Institutional Investor Initiative. Rekha is also on the Advisory Board of the International Financial Corporation (IFC) Operating Principles of Impact Investing.
David Villa
Executive Director/Chief Investment Officer, State of Wisconsin Investment Board
Mr. Villa is the Executive Director/Chief Investment Officer of the State of Wisconsin Investment Board (SWIB).  In addition to his role as overall leader of the organization, he is responsible for implementing the investment policy and developing the architecture to manage fund level returns and risk for over $119 billion in assets.  Since 2006, he has led SWIB's investment strategy serving as Chief Investment Officer and the Chairman of the Investment Committee.  Prior to joining SWIB, Mr. Villa served for two and a half years as the Chief Investment Officer for the State Board of Administration of Florida and twelve years with UBS Global Asset Management, previously Brinson Partners.  Mr. Villa began his career with First Chicago and Arthur Andersen.
Mr. Villa is a trustee of the Financial Accounting Foundation which is the parent organization of the Financial Accounting Standards Board and the Governmental Accounting Standards Board. Mr. Villa is also a board member and Treasurer of the Marguerite Casey Foundation.  He is a member of the 300 Club, a group of investment professionals from across the globe who have joined together to raise uncomfortable and fundamental questions about the investment industry and investing.
Mr. Villa has a BA in Economics from Princeton University, an MA in Latin American Studies from Stanford University, and an MBA, in Finance and Accounting from Northwestern University.  He is a Chartered Financial Analyst and a member of the Illinois CPA Society.
Below is a list of the organizations who attended our 6th Annual HHF Investors Forum:
a55
Action Potential VC
Alameda County Employees' Retirement Association
Alaya Capital Partners
Aligned Partners
Artha Consulting
Asia CEO Community
Azure Development
Bank of the West
Barnes & Thornburg
BitGio, Inc.
Brainstorm Ventures
Breakaway VC
Calibrium AG
CalSTRS
Cambridge Associates
Carpenter Community BancFund
Chingona Ventures
Clearlake Capital Group
Cloverlay
Connective Capital
Core Capital Management
De Luna Partners
Diverse Communities Impact Fund (DCIF)
DWS Group
Early Growth Financial Services
East Los Capital
Emerson Collective
Fairview Capital
First Round Capital
Fusion Fund
Goldman Sachs
Iberus
IGNIA Partners
Illinois State Treasurer
Impact Experience/Illumen Capital
Indicator Capital
Kabouter Management
Kalei Ventures
Kapor Capital
Keystone National Group
LACERA
LACERS
Leap Global Partners
Lendistry
Logos Capital
LTX VC
madeBOS
Merrill Lynch
MiLA Capital
Mills College
Modesto Irrigation District
MSCI, Inc
New America Alliance
NextEquity Partners
Nilo Ventures
Northern Arizona University
Nuveen Investments
Ockham Associates
Office of the CIO of the Regents
Parkland Management Company
Plexo Capital
Private Family Office
Samsung NEXT
Silicon Valley Bank
Spitfire Capital
StepStone Group
Strategic Urban Development Alliance
Stray Dog Capital
Sunstone Partners
SV LATAM Capital
Sway Ventures
Teacher Retirement System of Texas
The 22 Fund
The Bueno Group
The James Irvine Foundation
TheVentureCity
Ulu Ventures
University of California Regents
Unshackled Ventures
Upwelling Capital
Upwork
VC Include
Venture Network
Vicker Ventures
Vulcan Capital
Wells Fargo Advisors
Plus a handful of family offices and private investors
A partial list of prior keynote speakers and participating asset allocators, government agencies, and educational institutions is below:
Keynote Speakers
Anne Mathias, Macro Strategist, Senior Managing Director, Guggenheim Partners
Antonio Villaraigosa, 41st Mayor of Los Angeles
Gilbert Garcia, Managing Partner, Garcia Hamilton & Associates, LP
Gustavo Arnavat, Former U.S. Executive Director, Inter-American Development Bank
Henry Cisneros, Former U.S. Secretary of Housing and Urban Development
John Chiang, California State Treasurer and Trustee, California Public Employees' Retirement System and California State Teachers' Retirement System
Josh Gotbaum, Director, Pension Benefit Guaranty Corporation
Luis A. Aguilar, Commissioner, U.S. Securities and Exchange Commission
Rosie Rios, United States Treasurer, U.S. Department of the Treasury
Steve Westly, Former Controller of California; Managing Partner, the Westly Group
Sylvia Bell, Managing Director, Teachers' Retirement System of Texas
Institutional Investors (Trustees, CIOs, Portfolio Managers, & Senior Staff)
Atlanta General Employees' Pension Fund
California Department of Insurance
California Public Employees' Retirement System
California State Teachers' Retirement System
Chicago Teachers' Pension Fund
Colorado Public Employees' Retirement Association
Edison International, Pension Arm
El Paso Firemen's and Policemen's Pension Fund
Fire and Police Pension Association of Colorado
Fire and Police Pension Fund of San Antonio
Illinois Municipal Retirement Fund
Illinois State Board of Investment
Illinois State Treasury
Los Angeles City Employees' Retirement System
Los Angeles County Employees Retirement Association
Los Angeles Fire and Police Pensions
Metropolitan Transit Authority of Harris County, Non-Union Pension Plan and Trust
Nevada Public Employees' Retirement System
New Mexico Public Employees' Retirement Association
New York City Employees' Retirement System
Policemen's Annuity and Benefit Fund of Chicago
Santa Barbara County Employees' Retirement System
Service Employees International Union
St. Ignatius Endowment
Teacher Retirement System of Texas
UAL-MEC Pilots Retirement
UCLA Investment Company
University of California Retirement System
University of Michigan Endowment
Virginia Retirement System
Government Institutions
Board of Governors of the Federal Reserve System
Inter-America Development Bank
New York City Comptroller
Pension Benefit Guaranty Corporation
San Francisco Federal Reserve
U.S. Department of Commerce
U.S. Department of the Treasury
U.S. Securities and Exchange Commission
U.S. Small Business Administration
Academic Institutions
Loyola Marymount University
Michigan State University
University of Maryland