2021 HHF Investors Forum Speakers
Anthony Arnold
Partner, Barnes & Thornburg LLC
Anthony Arnold is responsive and practical in his approach to helping clients solve problems and execute complex transactions from start to finish. He provides over a decade of experience advising clients on corporate, finance, strategic and investment matters and a balanced perspective from working as in-house counsel at one of the world's largest private equity funds.
Anthony advises U.S. and foreign investors and companies across a variety of industries, including software and hardware technology, biotechnology, aerospace and defense, industrials and manufacturing, financial and professional services, real estate, and sports, media and entertainment. Clients value his input, appreciate his strong business sense and innovative thinking and, as a result, view him as a trusted adviser and true partner.
Ophelia Basgal
Trustee, ACERA; SF Foundation
Ophelia Basgal is currently a Consultant at the UC Berkeley Terner Center for Housing Innovation and Senior Executive Consultant for InclusionInc., a diversity and inclusion consulting firm. During the Obama Administration, she was the Region IX Regional Administrator for the Department of Housing Urban Development (HUD). Prior to this position, she was the Vice President for Community Relations at PG&E from 2005- 2010 and Executive Director of the Alameda County and Dublin Housing Authorities from 1978-2005.
Ophelia has a BA with Distinction from Arizona State University and Masters in Social Welfare, with a specialty in Administration, from the University of California, Berkeley. She is an active member in the community serving on the Boards of Trustees of the San Francisco Foundation, Mills College and the Alameda County California Employees' Retirement Association, an $10+ billion public pension fund. She is also on the advisory boards of the Public Policy Institute of California and the UC Berkeley Goldman School of Public Policy.
Sasha Bernier
Managing Director, Cheltenham Enterprises
Sasha Bernier is a Senior Vice-President and Investment Committee member of Cheltenham Investments, a single family office focused on investing in both debt and equity primarily in real estate opportunities and lower middle market companies.
Mr. Bernier formerly served as a Vice President of Revere Capital, a real estate debt fund with the responsibility for underwriting and structuring new investment opportunities in the real estate debt space.
Sasha Bernier has also worked at investment funds GSC Group, a credit focused hedge fund, and Barrington Capital, a debt and equity event driven hedge fund.
Mr. Bernier graduated from the University of North Carolina at Chapel Hill with a BS in Business Administration and a JD from the University of Pennsylvania Law School.
Victoria D. Bills
Investment Analyst, Illinois State Treasurer's Office
Victoria Bills is an Investment Analyst for the Illinois State Treasurer's Office assisting in conducting investment due diligence, analysis, and monitoring external program managers on the Illinois Growth and Innovation Fund. Prior to joining the Treasurer's Office, she worked as a Client Service, Investor Relations Associate at Ariel Investments. Prior to starting her career in finance, Victoria graduated from Babson College where she concentrated in global business management and economics. During her time at Babson, she studied the political and business environments of emerging markets focusing on China, Russia, India, Japan, Argentina and Uruguay working on consulting projects for entrepreneurs within those countries.
Outside of work, she practices argentine tango, aerial hammock, and volunteers for the Chicago Sister Cities Osaka Committee. Victoria grew up in Hyde Park and continues to live there with her cat, Chairo.
Pablo Brezman
Associate Equity Analyst, Kabouter Management
Pablo is a Research Analyst with responsibility for new idea generation, stock analysis, and ongoing due diligence for portfolio companies within an assigned region of the world. All analysts are additionally responsible for deploying Kabouter's friendly engagement initiatives and working with the management teams of the portfolio companies in which we invest. Prior to joining Kabouter in 2018, Pablo worked at Usonian Investments, where he worked directly with senior analysts and the portfolio manager in the research and analysis of companies for the International Small Caps and Japan Value strategies. Before transitioning to the financial industry, Pablo worked since 2005 at JCDecaux N.A, a multinational company in the outdoor advertising industry, with presence in airports, cities and shopping malls around the globe, where he was the VP of Operations for the Mid-West Region. Pablo holds a bachelor's degree in Structural Engineering from the Universidad de la Republica in Uruguay, a master's degree in International Business from Florida International University in Miami, and he is a CFA charterholder. He is a dual citizen of the United States and Uruguay, and speaks or has studied Spanish, French, Hebrew, and some Portuguese.
Andre Bueno
Principal, The Bueno Group
With over 15 years of real estate experience, Andre is responsible for founding and overseeing Bueno Group, a vertically integrated real estate development company. Since 2006, he has redeveloped and repositioned 400+ apartments across three states.
Before forming Bueno Group, he actively researched and presented strategic investment opportunities across a $500MM client base on behalf of Morgan Stanley and Goldman Sachs. Additionally, he spent time working at a Private Equity Real Estate fund focused on merchant building across Latin America.
Andre is a proud graduate of the University of Southern California Ross Development program. He is a fellow of the Stanford Latino Entrepreneurship Initiative and received his undergraduate degree from Loyola Marymount University.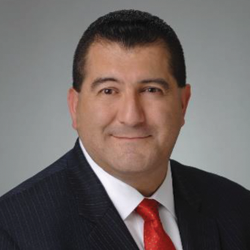 Martin Cabrera, Jr.
CEO, Cabrera Capital
Martin Cabrera is the CEO and Founder of Cabrera Capital Markets (CCM) and Cabrera Capital Partners (CCP).
Cabrera Capital Markets (CCM) provides global investment banking and institutional brokerage services to a substantial and diversified client base that includes financial institutions, states and municipalities, corporations, unions, foundations and endowments. CCM has issued over $900 billion in debt and equities for municipalities and corporations domestically and internationally. CCM's taxable fixed income and global equities trading desks are transacting over one billion in securities daily.
Cabrera Capital Partners (CCP) provides commercial and residential real estate development expertise, investment, and consulting services to a full range of clients in the public, private, institutional and non-profit sectors. CCP has experience providing investment advisory services including development, acquisition and management of over $3.5 billion in institutional real estate. CCP's current real estate development focus is the transformation of a thirty-six acre vacant in-fill site on Chicago's Southwest side into a 400+ million mixed income and mixed use community providing essential housing, services and jobs.
Martin has over twenty-five years of investment experience. He earned a Bachelor of Science degree in Finance from Northern Illinois University and studied at the London School of Economics.
Martin currently serves as a Board Member at Chicago Community Trust, Member of the Archbishop's Finance Council and Chairman of the Real Estate Committee for the Archdiocese of Chicago, Chairman of the Endowment Committee at St. Ignatius College Prep, Governing Board Member at Econ Illinois, Board Member of World Business Chicago, Board Member of Latino Donor Collaborative, Former Chairman of the City Colleges of Chicago and Former Chairman of the Chicago Plan Commission.
Cheryl Campos
Head of Growth & Partnerships, Republic
Cheryl is passionate about the intersection of finance, technology, and social impact. She is the Head of Venture Growth and Partnerships at Republic, a one-stop-shop for founders to raise capital from both accredited and non-accredited investors. She is focused on introducing underrepresented founders to both traditional and alternative funding sources in order to help their startups thrive. In other direct investing roles, she is a scout for Lightspeed and an investment partner at The Community Fund. Cheryl is also one of the founders of VCFamilia, a community of Latinx VCs supporting current & emerging investors through collaboration.
Previously she worked as an analyst in a Connecticut-based private debt & equity firm with an emphasis on minority and women entrepreneurs. She started her career in Investment Banking at Barclays, working in the Financial Institutions Group and Structured Finance. She holds a BA in Economics with honors from Harvard University.
Tina Castro
Managing Partner and Co-Founder, Avivar Capital
Tina is a Managing Partner and co-founder of Avivar Capital, bringing over 20 years of experience in the fields of finance and investment management. Tina co-leads the firm's overall business activities and serves as an impact investment advisor to Avivar's clients providing guidance on the development and execution of impact investing portfolios and funds.
Prior to founding Avivar, Tina was the Director of Impact Investing for The California Endowment (TCE) and prior to that worked in the Investment Management Division of Goldman, Sachs & Co. At TCE, a health-focused private foundation with over $3 billion in assets, Tina developed financing vehicles and strategies that delivered solid financial returns, leveraged significant additional investment capital and supported TCE's Building Healthy Communities goals. This included the California FreshWorks Fund, a $272 million public-private partnership loan fund to finance supermarkets and other forms of healthy food retail in underserved communities throughout the state as well as TCE's $101 million Program-Related Investment portfolio focused on healthy food retail, community health centers, affordable housing and community lending.
Tina has designed and built impact investing portfolios for a range of institutional clients – from developing strategy, policy and processes, including designing social and financial portfolio monitoring and reporting systems, to sourcing, diligencing and structuring transactions across a range of asset classes and return expectations.
Tina is a CFA Charterholder, has an MBA in Finance from the UCLA Anderson School of Management and an MA in International Affairs with a focus in International Business from the University of Miami. She earned a BA Cum Laude in International Relations with a focus in Latin America from the University of Colorado at Boulder. She currently sits on the Governance Board for the Center for Good Food Purchasing, National Advisory Council for the Building Healthy Places Network and is an Advisory Committee Member for the National Healthy Food Financing Fund Manager. She was also formerly a board member of Aeris Insight, the Dignity Health Community Economic Initiatives Subcommittee, the Mission Investors Exchange Steering Committee and an Adjunct Instructor for a graduate course on impact investing at USC as well as a Faculty Advisor at the UCLA Anderson School of Management.
Chris Delgado
Director of Equities and Technology, Olayan Group
Chris Delgado is the lead US technology research analyst at the Olayan Group, a family office with institutional scale. Chris has been with the Group for over five years and prior to working at Olayan spent eight years at J.P. Morgan in banking (US Financials) & equity research (Latin American Financials). Chris received his B.B.A. from the Stephen M. Ross School of Business at the University of Michigan.
Luis Elizondo-Thomson
CEO, Private Family Office
Luis currently serves as CEO of de Barneure Sarofim a Houston based family office. Before that he worked as a leader in Texas education reform, several years in investment banking, and two presidential campaigns.
His roles have included serving as Senior Director at Safal Partners, a management consulting firm headquartered in Houston and as the Houston Executive Director for Teach For America (TFA) where he led one of the organization's largest and most tenured regions through a successful restructuring that included increasing revenues, reducing expenses and setting a new vision and direction for the region.
Immediately before joining TFA he successfully led the Parks By You (PBY) campaign, the first phase of a public-private partnership that raised $271 million to improve Houston's recreational infrastructure. Prior to that, he conducted post-graduate work with the Center for Public Leadership at Harvard's Kennedy School of Government and the Aspen Institute on the Latino Leadership Initiative.
Before graduating from the Kennedy School, he spent five years as an investment banker leading the Houston office of a boutique firm specializing in infrastructure finance. He was responsible for expanding business operations throughout the greater Houston area and supporting clients nationwide.
Prior to that, he worked on two presidential races where he held various positions, most notably serving as Regional Political Director and national Director for Hispanic Affairs where he oversaw a multimillion- dollar effort to reach Latinos across the country via radio, TV, direct mail and the internet.
Luis holds a B.A. in English from Hobart College and an MPA from Harvard's Kennedy School of Government. Additionally, he is active with several boards and organizations including BakerRipley, Yes Prep Public Schools and the Latino Texas PAC, among others.
Lisa Feria
CEO, Stray Dog Capital
Lisa is the CEO and General Partner of Stray Dog Capital, a Venture Capital firm that invests in early-stage food, food tech, and biotech companies that will deliver financial rewards and have a positive impact on people, animals, and the planet. With over 45 investments, Stray Dog Capital is one of the leading early-stage investors in the plant-based market. Lisa spent decades focused on food operations and consumer packaged goods. She led the marketing, P&L management, and strategy for billion-dollar brands in multinational companies such as Procter & Gamble and General Mills. A Kauffman Fellow, Lisa has an MBA from the University of Chicago, and a Bachelor's degree in Chemical Engineering from the Georgia Institute of Technology. She has been selected twice for the "top 100 Latina Leaders in the United States" list by Hispanic Executive magazine.
Megan Fielding
Senior Director of Responsible Investing, Nuveen
Megan Fielding is a senior director and member of the responsible investing (RI) team at Nuveen, the investment management arm of TIAA. She leads the RI interface that brings RI to clients, working with Nuveen's Global Client Group and TIAA to address investor goals and critical needs within the responsible investing landscape. Additionally, she collaborates with Global Marketing on RI content, thought leadership and events to promote Nuveen's RI expertise. Megan also serves on the Nuveen Inclusion and Diversity Council to build and support employee engagement on Inclusion and Diversity initiatives.
Prior to joining the firm in 2016, Megan was head of investments and business development at MicroPlace, an Ebay subsidiary and fintech platform focused on the alleviation of global poverty. Earlier, Megan held positions in marketing, sales, product development and investment consulting at financial organizations located in San Francisco and New York.
Megan graduated with a B.A., cum laude, in Economics from Wheaton College and an M.A. in International Studies from the University of San Francisco. She holds the CIMA designation.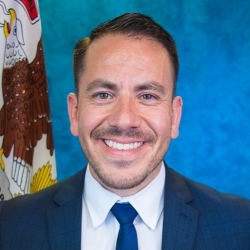 Rodrigo Garcia
CIO, Illinois State Treasurer's Office
Rodrigo Garcia, CTP®, AIF® is the deputy state treasurer and chief investment officer for Illinois State Treasurer Michael W. Frerichs. He directs the Illinois treasury's combined $38 billion investment portfolios, $275 billion in related banking operations and financial activities, and a $3.2 billion agency budget and financial reporting unit. He is a frequent speaker and contributor on topics such as financial innovation, investment stewardship, the financial markets, corporate governance, inclusive capitalism, sustainable finance/ESG, development finance, impact investing, public policy, leadership, and diversity & inclusion. He is an Adjunct Professor in Public Finance at Northwestern University, an Aspen Global Finance Fellow and a recent TEDx speaker. He also is a Certified Treasury Professional (CTP®), an Accredited Investment Fiduciary (AIF®), and holds SASB's FSA credential.
Rodrigo was previously the director of the Illinois Department of Veterans' Affairs and a member of the Illinois Cabinet, and has also worked for Morgan Stanley & Co., Inc. and the Federal Reserve Bank of Chicago. Rodrigo holds an undergraduate degree with a major in finance from Northeastern Illinois University, two post-graduate degrees, one with a focus in finance from the University of Illinois and one with a focus in public policy from Northwestern University and has also completed a senior executives program at Harvard's Kennedy School of Government.
Rodrigo chairs the investment selection committee at Angeles Investors, chairs the investment committee for the endowment at Northeastern Illinois University, serves on the investment committee for the endowment at Youth Guidance/Becoming a Man, serves on the investment committee for the endowment at Leadership Greater Chicago, serves as the treasurer on the board of directors for the Thirty Percent Investor Coalition and is the chairman emeritus of Student Veterans of America. He also serves on the advisory councils for the Private Directors Association, the Milken Institute's Global Capital Markets group and the Aspen Institute's Latinos in Society program.
He is a dedicated public servant, an investment platform innovator, an angel investor, and an economic systems architect battling the many challenges afflicting our communities.
Amit Garg
Partner, TAU Ventures
Cofounder and Managing Partner at Tau Ventures, a seed fund in Palo Alto focused on applied AI in digital health, automation (cars, drones, robots), and enterprise. Our 15 current investments include ArmorCode (application security), Biotia (analyze pathogen genomes to prevent hospital contamination), Blendid (robotic arm for making food), Cerby (cybersecurity to harness shadow IT), Elemental Machines (IoT to improve production of foods+drugs), FidoCure (treat cancer in dogs), Freedom Robotics (cloud platform for robotics), Infinitus (helping patients navigate healthcare), Iterative Scopes (computer vision for colon cancer), RapidDeploy (unified public safety), RubiconMD (referral service for primary care physicians), Signos (weight loss through glucose monitoring), Totient (cancer drug discovery), and two investments in stealth.
Amit has been in Silicon Valley for 20 years — at Samsung NEXT Ventures where he seed-funded nuTonomy (self-driving cars, sold for $450M), cofounded a startup called HealthIQ (as of May 2019 a series D that has raised $120M and valued at $450M), at Norwest Ventures ($10B AUM), and doing product and analytics at Google. His academic training is BS in computer science and MS in biomedical informatics, both from Stanford, and MBA from Harvard. He speaks natively 3 languages, lives carbon-neutral, is a 70.3 Ironman finisher, and has built a hospital in rural India serving 100,000 people.
Marcos Gonzalez
Managing Partner, VamosVentures
Marcos began his career at the Boston Consulting Group and worked across industries, functional areas and regions, including Latin America and the USA. Marcos then entered the Private Equity industry making investments throughout the USA and Latin America with both the Global Environment Fund (GEF) and Darby Private Equity. In both strategy consulting and private equity, Marcos focused on a variety of industries including consumer and industrial products, media, technology, financial services, health, and infrastructure among others.
Between private equity funds Marcos co-founded a tech company in Boston, raising $10mm from VCs and strategic investors and later sold the company. Marcos' career in strategy, private equity and tech entrepreneurship led him to found VamosVentures to invest in early-stage tech companies led by Hispanic and other diverse founders. VamosVentures has successfully closed Fund I at $50mm and is now deploying capital. Marcos was born in Los Angeles to Mexican immigrant parents, graduated from Brown, earned an MBA from Harvard and now resides in Downtown Los Angeles. Marcos can be reached at Marcos@VamosVentures.com
Caroline Greer

Managing Director, Commonfund
Caroline Greer is a member of the Commonfund Asset Management Investment team and is primarily responsible for hedge fund manager due diligence and for diverse manager investments across asset classes. Caroline currently serves as a member of the Commonfund Diversity, Equity and Inclusion Office and is also a member of the Commonfund Asset Allocation Committee. Prior to joining Commonfund, she served as a Partner and Principal for Contego Capital Management, LLC, specializing in customized funds of hedge funds. She was responsible for sourcing, evaluating and monitoring hedge fund managers across a full range of strategies. Prior to joining Contego, Caroline was a Senior Vice President for Oppenheimer and Co. where she co-managed their funds of hedge funds program and monitored Oppenheimer's private equity fund. Caroline began her career at Montrose Advisors, a boutique financial advisor specializing in managing customized funds of hedge funds and private equity and venture capital portfolios. In 2015, Caroline was named one of the 50 Leading Women in Hedge Funds globally by The Hedge Fund Journal. Caroline received a B.A. in Political Science from the University of Toronto, and an M.A. and M.Phil. from Columbia University of New York.
Alejandro Guerrero
General Partner, Act One Ventures
Alejandro Guerrero is a co-founder and General Partner at Act One Ventures, a Los Angeles-based pre-seed/seed fund investing in business software. Since 2015 he and his partner have raised $65mm in AUM and have invested in 40 companies, 70% of which are founded by women or minorities. He is the creator of the Diversity Term Sheet Rider for Representation at the Cap Table and the Diversity Riders Podcast.
Al Hemmingsen

Chief Investment Officer, Parkland Management Company
Al is currently the Chief Investment Officer of Parkland Management Company, a single family investment office. Formerly he led the research team at Highland Consulting Associates, an institutional investment consulting firm. Outside of work his biggest interests are:
Brazilian Jiu-Jitsu (black belt)
Astrophotography
The protection and restoration of tree species native to eastern North America.
Samara Hernandez

Founding Partner, Chingona Ventures
Samara is Founding Partner of an institutionally-backed pre-seed stage fund, Chingona Ventures, focusing on investing in technology and technology-enabled companies all over the U.S. Prior to this she was an early stage investor at MATH Venture Partners, an early-stage venture fund investing in technology start-ups with differentiated approaches to customer acquisition. In this capacity, she led new investment review, diligence and execution. Prior to venture capital, Samara worked at Goldman Sachs, where she was continually ranked top 5 in selling financial products, providing market insights, advising on portfolio construction, and consulting on business practices. She started her career in the Fixed Income, Currency and Commodity (FICC) group where she led multiple technology enhancing projects across global exchanges. Samara is actively involved in the Chicago tech community and passionate about helping underrepresented groups get into STEM education, venture capital and entrepreneurship. She co-founded the Latinx Founders Collective organization to bring together Latinx founders, investors, and community leaders to support the entrepreneurial ecosystem.
Samara earned an Industrial and Operations Engineering degree from the University of Michigan and a master's degree in Business Administration from Northwestern University.
Rebeca Hwang

Managing Partner, Kalei Ventures
Rebeca Hwang is Kalei's founder and General Partner. Born in South Korea and raised in Argentina, she contributes with her experience as an innovator and inventor, founder and entrepreneur, social entrepreneur, educator and ecosystem builder, with engineering degrees and doctoral work from MIT and Stanford. Rebeca co-founded Rivet Ventures – an early-stage Venture Capital Fund based in San Francisco – and YouNoodle, a start-up competition platform originally backed by Peter Thiel and Max Levchin, and Charles Lho, a Korean angel investor. She teaches Tech Entrepreneurship at Stanford and has taught at Tec de Monterrey for half a decade. She co-founded CleanTech Open (now the largest cleantech competition in the US) and the Startup Nations Summit. Rebeca was an advisor for Startup Peru, co-chair of The Mexico-U.S. Entrepreneurship and Innovation Council with INADEM, advisor to SFactory in Chile for female entrepreneurs, and created and led the program Kofounders with support from the agency of the Korean government, KISED. Rebeca has advised several startup ecosystem development programs, including initiatives in Malaysia, South Korea, Spain, Iceland, Chile, Peru, Mexico, and Singapore. Rebeca's investment career was based on finding overlooked opportunities and in finding contrarian investment roadmaps: by creating a female-market focused VC she built a portfolio of more than 20 startups in Silicon Valley, including Hooked, Dote and Ritual. Her background is a perfect fit for this joint Fund, with insider understanding of both Korea and Latin America and 20 years of building her network in the tech community of Silicon Valley.
Henry Jones

Trustee, CalPERS
Henry Jones is serving his fourth term on the CalPERS Board of Administration and his second one-year term as president. Prior to being elected president, he served three years as vice president of the board.
He retired in 1998 from the Los Angeles Unified School District (LAUSD) — the second largest in the nation. As chief financial officer, he oversaw LAUSD's $7 billion annual budget. He also headed their Annuity Reserve Fund Board overseeing the pension fund for 7,000 schoolteachers and administrators.
Henry currently serves as a personnel commissioner for the Los Angeles Community College District. He is a member of the governing board of the Robert Toigo Foundation, a nonprofit organization that encourages minorities and women to pursue careers in finance. He also serves on the board of the Pacific Pension & Investment Institute, an educational organization that assists pension funds, corporations, financial institutions, and endowments worldwide with their fiduciary responsibilities, particularly in Asia and the Pacific region.
Previously, Henry represented CalPERS on the Advisory Council of California All, a nonprofit organization focused on closing the achievement gap from preschool to professional careers in law, financial services, and technology.
He has served on the board of directors for Community Partners, a nonprofit organization that works with social entrepreneurs, grant makers, and civic leaders to design solutions, foster, launch, and sustain initiatives for change.
In addition, he was the state finance chair for the Association of California Schools Administrators; treasurer for the National Council of Institutional Investors; chairman of the Los Angeles Schools Federal Credit Union; business development executive for IBM Business Consulting Services; and principal consultant for PricewaterhouseCoopers.
Henry also served as an adjunct professor at California State University, Los Angeles.
He has a bachelor's degree in business administration and finance from California State University, Los Angeles.
1Elected board members serve four-year terms that begin January 16 of the term and end January 15.
Rodney June

CIO, LACERS
Rod has been with the $21 billion Los Angeles City Employees' Retirement System (LACERS) since 1998 and has served as its CIO since 2012. Prior to being named CIO at LACERS, he served as CIO for the State of Hawaii Employees' Retirement System from 2008 to 2012.
Recent initiatives include developing a more inclusive Emerging Investment Manager Program, exploring investment program options to better address ESG risk factors, and expanding its private equity program to include greater exposure to co-investment and secondaries.
Prior to joining LACERS, Rod was a Banking Officer with First Interstate Bank of California, a business management consultant for The George S. May Company, and a Finance Development Officer with the City of Los Angeles, where he worked with multiple government agencies and private sector entities to increase the number of multi-family low income housing developments.
Rod holds a B.S. in Business-Finance from California State University, Long Beach, where he was a member of Beta Gamma Sigma Business Honor Society, and an M.B.A. from the Raymond J. Harbert College of Business at Auburn University.
Christine Kenna

Partner, IGNIA
Christine Kenna is a Partner at IGNIA, a cross-border venture capital fund investing in technology companies that are reinventing the way to do business with the emerging middle class in Latin America, focused in sectors such as fintech, digital commerce, Saas and marketplaces. In addition, Christine serves on the Board of Directors of The Mexican Association of Venture Capital (AMEXCAP) and leads the industry's ESG Committee. Previously Christine worked in various operating roles in EF Education First, Google, the Guggenheim Foundation and EY Parthenon. As a passionate advocate for developing high-potential professional women and networks, Christine co-founded Mujeres Invirtiendo, MBA Mujeres de México and was recognized as one of the top female investors in Latin American by the Latin American Venture Capital Association. Christine graduated from Duke University, Harvard Business School and is a Kauffman Fellow with Class 23.
June Kim

Director, Global Equity, CalSTRS
As the Director of Global Equity for the California State Teachers' Retirement System, June Kim is responsible for the fund's $128 billion global equity portfolio. Her team manages $90 billion of the equity assets internally in index strategies and oversees the remaining assets in investments with external active managers. June is a member of the fund's Risk Allocation Committee, which makes tactical asset allocation decisions for the total fund.
Prior to joining CalSTRS, June was head of public equities for the Los Angeles County Employees Retirement Association. Her other investment experience includes management of equity index and active quantitative strategies at investment management firms in the private sector and foreign exchange experience on the sell-side. June currently serves on the advisory board for Girls Who Invest, a non-profit that is dedicated to increasing the number of women in leadership in the asset management industry. She is also a member of the FTSE Russell Index Policy Advisory Board and is the chair of CalSTRS Investments' Diversity Steering Committee. June received her B.A. in Business Economics from the University of California at Los Angeles and is a 2019 Finance Leaders Fellow of the Aspen Institute and a member of the Aspen Global Leadership Network.
Marjorie Lopez

Vice President, Rx3 Growth Partners
Marjorie is a Vice President at Rx3 responsible for assisting in all aspects of the fund's investment process, including sourcing, diligence and portfolio management. Previously, Marjorie held various roles at Barclays including investment banking associate on the consumer retail group and equity research junior analyst covering the hardlines / broadlines retail sector. Marjorie began her career as an analyst at Goldman Sachs. She graduated from the Walsh School of Foreign Service at Georgetown University.
Saira Malik

CIO and Head of Equities, Nuveen
Saira oversees the equities strategic direction for Nuveen as chair of the Equities Investment Council (EIC) and a member of Nuveen's Global Investment Committee (GIC). For much of her career Saira has managed global large cap and small cap equity portfolios. Additionally, she has oversight responsibility for equity portfolio management, equity research, equity trading, target date, quantitative and index strategies.
Since joining the firm in 2003, Saira has held a variety of positions. Most recently, she oversaw global equities portfolio management. Before that, she acted as head of global equity research. Prior to that, Saira held positions with JP Morgan Asset Management as vice president and portfolio manager for a small cap growth fund, as well as an equity research analyst.
Saira graduated with a B.S. in Economics from California Polytechnic State University, San Luis Obispo, and an M.S. in Finance from the University of Wisconsin, Madison. She holds the CFA designation and is a frequent guest on many financial news programs such as CNBC, Bloomberg and Fox business and has been profiled in Kiplinger's and Barron's. Saira is ranked in the top 100 most influential women in U.S. finance by Barron's.
Monika Mantilla

Managing Partner, Altura Capital Group
Monika has dedicated the last 20 years of her life to her passion: pursuing societal transformation through entrepreneurial success by providing capital and expanding opportunity to promising entrepreneurs, all of which can bring significant returns to investors and economic development impact. Monika is also the Co-Founder and Managing Partner of Small Business Community Capital.
Angela Matheny

Director of Investment Staff & Diverse Manager Equity, Crewcial Partners
Angela Matheny joined Crewcial Partners in July 2016. She is an integral part of Crewcial's research team. Angela and the firm's CIO co-manage the investment team to ensure internal processes are efficient while overseeing the firm's systematic process for identifying best ideas for portfolios. As a Co-Relationship Manager, she ensures client portfolios and advice reflect the firm's best thinking and account for portfolio/client interests and issues. Valuing human capital, focusing on internal diverse talent acquisition, building a training and development program, and advancing diversity, equity, and inclusion industry-wide are other areas of expertise. Angela also drives the firm's research process to attract and source diverse asset managers while monitoring the internal protocol for vetting women and diverse asset managers; she facilitates the constant communication between Crewcial and fund managers, assisting firm efforts to build a robust pipeline of this largely under-followed segment of the asset manager community marketplace. Angela believes a combination of public, private, and philanthropic capital drives meaningful impact when coordinated towards a shared systemic goal. Prior to joining Crewcial, she spent 23 years at a financial-services law firm, 13 of which as a legal assistant in the investment management group assisting with fund document creation and Blue Sky and SEC filings; ten years were spent working with human resources in the training and development group with a special focus on diversity and inclusion. Angela received her BA in Psychology from Bernard Baruch College and a Master of Public Affairs and Administration from the Metropolitan College of New York. She also earned a Certificate in Human Resources Management from Villanova University, which included studies in diversity and inclusion.
Jazmin Medina

Principal, NewView Capital
As a former founder and investment banker, Jazmin brings unique insight into company building, product strategy, and finance. Prior to joining NewView Capital, she was co-founder and Chief Operating Officer of Bundler TV, a media-tech startup in Los Angeles. Previously, Jazmin advised C-level executives on product and go-to-market strategy at Warner Bros and Jaunt. She began her career at Goldman Sachs in New York, where she worked as an investment banker and for the Chief of Staff to the CEO.
Jazmin holds an MBA from Harvard Business School and a BS in Finance from Arizona State University, where she serves on the Next Generation Council to the ASU Foundation Board of Directors. She also serves on the Board of Directors for Veryfi, Topia and Hearsay.
Sheryl Mejia

Managing Partner, Steward Asset Management
Sheryl leads the investment committee atSteward Asset Management, an anchor investor to emerging private equity and opportunistic managers as they prepare to launch fund I. Steward deploys capital in the U.S. private equity middle market with an emphasis on healthcare, consumer, industrial and technology verticals and at times combines complementary allocations to real assets and opportunistic strategies.
Most recently she was the Director of Emerging Managers at the New York State Common Retirement Fund, overseeing more than $8 billion in commitments to over 120 smaller and emerging firms. She is passionate about supporting the incubation of owner-manager entrepreneurs, those with a strong record of allocating to buyout, growth equity and other private fund strategies.
Prior to this she was Managing Partner, Decagon Advisors, focused on the due diligence of smaller private funds as well as supporting the launch advisory practice for newly forming firms. Decagon was formed as a direct result of the evolving needs of her previous role as Macroeconomic and Due Diligence Analyst at KCS Funds, a Fund of Funds. Prior to that she served in asset management and client facing roles as a Director at Deutsche Bank, formerly Bankers Trust Asset Management, after beginning her career at KPMG in the Financial Services practice.
She holds an MBA from the Wharton School at the University of Pennsylvania and a Bachelor of Commerce, Honors, from Queen's University in Canada. She is a CFA charterholder and a Canadian Chartered Accountant. In addition, she serves as Director of the Levy vonWald Foundation which primarily focuses on literacy initiatives in New York State.
Nate Mejias

Investment Team, Clearlake Capital Group
Nate joined Clearlake in 2014 and focuses on investments in the industrials, consumer, and technology sectors across the firm's private equity, credit, and other related strategies. Prior to joining Clearlake, he was with Metalmark Capital where focused on investments in the healthcare, industrials, and energy sectors. Prior to Metalmark, Nate was with Credit Suisse in the investment bank. Nate serves or has served on several Clearlake portfolio company board of directors, including AmQuip Crane, Globe Energy, Janus International, Unifrax, and Wellpet. Nate graduated from Yale with a double major in Architecture and Economics.
Jeffrey Monge

Managing Partner, Monge Capital
Jeff Monge is the managing partner of Monge Capital, a Latino-owned firm focused on providing advisory services and capital solutions for complex, large-scale business and real estate projects that provide investor market returns and community social impacts. Mr. Monge has closed approximately $2.0 billion of complex structured finance transactions at Monge Capital, creating thousands of construction and permanent jobs, as well as an array of services for unserved communities.
Monge Capital has extensive expertise in direct equity investing and the use of a variety of city, state and federal financing programs, including a niche focus on the new markets tax credit (NMTC), historic tax credit (HTC), opportunity zones (OZ) incentive and flexible financing options.
Before founding Monge Capital, Mr. Monge was senior vice president and principal for a private equity fund as the primary investment originator, which led to a portfolio of more than $2 billion over his 10-year tenure. He also led a Community Development Entity that secured approximately $200 million in NMTC allocation.
Mr. Monge served as the International Council of Shopping Centers regional chairman of the Hispanic Markets Initiative and is currently a co-chairman of the NY P3 Program. He is also a member of the Real Estate Executive Council and co-founder of Open Access which is geared to increase Black and Latinx professionals in community development finance. With a long history of community service, he is an Advisory Committee member of the Hispanic Scholarship Fund and has spearheaded efforts to help revitalize Puerto Rico.
Mr. Monge has a bachelor's degree and master's degree from SUNY Polytechnical Institute in New York.
Frank Mora

Partner, HCAP Partners
Frank joined HCAP Partners in February 2013, and is responsible for originating, structuring, closing and monitoring portfolio investments. He is currently a board observer or actively involved in PriMetrica, Burke Williams, eLearning Brothers, and Veyo. Prior to joining HCAP Partners, Frank was with DBI Capital, a Southern California based lower middle market private equity buyout group. Frank joined DBI in 2006 where he was responsible for sourcing and structuring investment transactions, including co-investments into two HCAP Partners portfolio companies. Before joining DBI, Frank was a Vice President in the Fixed Income Capital Markets team at Citigroup specializing in Private Placements. Prior to joining Citigroup, he was an officer in the Venture Capital team within the Economic Development Bank for Puerto Rico. Frank holds a B.S. in Economics from the Wharton School of the University of Pennsylvania with a dual concentration in Accounting and Finance and an M.B.A. from Columbia Business School.
Stacie Olivares

Trustee, CalPERS
Stacie Olivares is an experienced senior executive, independent board director, economic advisor, and policy expert with an unwavering commitment to democratizing capital and improving environmental, social, and governance (ESG) and diversity, equity, and inclusion (DEI) outcomes in our global economy.
A global capital markets executive, thought leader, and prolific speaker, Olivares has extensive financial services, technology, and policy knowledge with a proven ability to create new capital markets paradigms that are profitable, equitable, and sustainable.
In March 2021, Kroll Bond Rating Agency (KBRA) appointed Olivares to its board to build out its ESG framework, citing her vast experience with ESG investment in insurance and capital markets. In February 2021, Olivares joined the board of Mission Advancement Corp. (NYSE: MACC), an ESG special purpose acquisition company, or SPAC, designed to acquire a consumer business that has the potential to generate a positive social impact.
In 2019, California Governor Gavin Newsom appointed her to the board of administration of CalPERS, the largest public pension fund in the country with $450B AUM and 2 million members. Since 2014, she has also served on the board of the Hispanic Heritage Foundation, which was established by the White House in 1987 to advise on policy issues and advance Latino leadership nationwide.
Olivares has extensive C-suite experience and in 2019 was named chief investment officer of Lendistry, a FinTech small business lender with a commitment to bridging community divides and enhancing access to capital for all. During her time in that role, she helped the company to achieve record capital raises, loan performance, and borrower diversity, elevating the number of female, diverse, and low or middle- income borrowers to above 80%.
She holds a BA in Economics from Berkeley and an MPP Business and Government from the Harvard Kennedy School, and she resides in Los Angeles.
Mina Pacheco

MD and Co-Head, Funds & Co-Investments, Barings
Mina Pacheco Nazemi is a Co-Head of the Funds & Co-Investments team and serves on both the investment committee and valuation committee. She is also responsible for originating, underwriting and monitoring primary fund, direct/co-investments, and secondary fund opportunities for private equity and real assets. Mina has worked in the industry since 1998 with experience as a General Partner and Limited Partner investor in private markets and focused on underwriting direct/co-investment opportunities. Prior to joining the firm in 2017, Mina held several leadership and investment positions including Co-Founder and Partner at Aldea Capital Partners and Partner and Investment Committee Member at GCM Grosvenor Customized Fund Investment Group (formerly Credit Suisse CFIG). She is an alumna of Sponsors for Education Opportunity (SEO) and Robert Toigo Foundation. She also is a board member of the Pan American Development Fund and serves on the investment committee for the City of Hope. Additionally, Mina is a current Finance Fellow for The Aspen Institute. Mina holds a Bachelor of Arts with honors in Economics and Political Science from Stanford University and her Master of Business Administration from Harvard Business School.
Carmen Palafox

Managing Partner, 2045 Ventures
Carmen Palafox has 20+ years of experience in asset management, and an established record of investing in over 25 startups across industries including climate tech, fintech, health tech, and consumer. She is the Founding Partner at 2045 capital, a thesis driven pre-seed and seed-stage venture capital firm based in Los Angeles.
Prior to venture capital, she was Vice President at Dimensional Fund Advisors where she scaled investment operations going from $75 Billion AUM to $300 Billion AUM.
Carmen leads in the technology ecosystem as a Board Member at the National Venture Capital Association, Steering Committee member of All Raise LA, and a Founding Board Member of LatinxVC.
Carmen has been recognized in LA Magazine as 1 of 13 Powerful Women Who Are Making LA a Better Place and a Top Influential Latina by Latino Leaders Magazine.
Emanuel Pleitez

Founding Managing Partner, East Los Capital
Emanuel has more than 15 years of experience working inside high performing organizations in various industries including private equity, software, consumer internet, tech-enabled services, investment banking, management consulting, and the public sector.
Prior to East Los Capital, he was an investor at Sunstone Partners where he focused on lower middle market businesses in cloud and enterprise IT, cybersecurity, edtech, fintech, healthcare IT, and internet and marketing services. Before Sunstone, he served as a Commissioner for the Los Angeles Fire and Police Pensions and Head Business Development for Qlovi, an edtech startup. Before Qlovi, Emanuel was a candidate for Mayor of Los Angeles and Chief Strategy Officer at Spokeo.
Emanuel's private sector experience also includes being a Business Analyst at McKinsey & Company and a Financial Analyst at Goldman Sachs. In the public sector, Emanuel served as Special Assistant to Chairman Paul Volcker in the U.S. Department of the Treasury and Designated Federal Officer of President Obama's Economic Recovery Advisory Board (PERAB).
Emanuel is currently a soldier in the U.S. Army Reserve and the Chairman of the Hispanic Heritage Foundation. A Los Angeles native, he holds a B.A. from Stanford University.
Rami Reyes

Co-Founder & Managing Director, NextEquity Partners
Rami is a Co-Founder and Managing Director at NextEquity Partners, a mid-stage venture firm founded by executives from Apple and Elevation Partners. At NextEquity, Rami co-leads all investments including investments the firm has made in leading enterprise and consumer technology companies, including Masterclass, The RealReal, Ring, Venafi, Arctic Wolf, CircleCI, and SentinelOne.
Previously, Rami was a Principal at Elevation Partners, where he worked on investments in leading tech companies including Facebook, MarketShare, Sonos, and Airbnb. Rami graduated with a B.S. in Economics from the Wharton School of the University of Pennsylvania, where he received the Dean's Award for Excellence, the school's top graduation award. Rami previously served on the board of directors of MarketShare (acquired by Neustar) and Business Talent Group (acquired by Heidrick & Struggles) as a board observer and currently serves as a board member on the board of directors of Medsphere.
Rami serves as Co-founder and President of LatinxVC and founded the Leadership Council for Sponsors for Educational Opportunity's San Francisco Scholars Program.
Cynthia Ruiz

Trustee, LACERS
Cynthia M. Ruiz is a Professor, Best-selling Author, Inspirational Speaker and Leadership expert. Receiving over 75 accolades and awards for her leadership and service to the City of Los Angeles.
She currently serves as Commission President for LACERS (Los Angeles City Employee Retirement System) overseeing a multibillion-dollar pension portfolio. Cynthia has been an executive in the public sector and is the author of six books.
Cynthia holds a Master's of Science Degree in Counseling and has completed a Leadership Course at Harvard University, John F Kennedy School of Government.
She is Latina & Native American and was the first person in her family to go to college.
Angel Saad

Venture Partner, Oak Investment Partners
Angel focuses on disruptive information technology infrastructure and derivative applications. His experience covers a variety of industries, technologies, and geographies. He's a board member/observer with Airspan, NextNav, and HealthPersonas, and has exited a number of Oak portfolio companies. He is a proud investor/advisor of great technology companies, some unicorns, and many LatinX founders. Angel is actively looking to invest in women-led companies. Ask him about the role of alternative investments in an optimally diversified portfolio and why mainstream fund performance metrics are misleading partial truths. He's a graduate of Wharton and Stanford.
Maria Salamanca

Partner, Unshackled Ventures
Maria Salamanca is Partner at Unshackled Ventures, a fund that fills a unique space in the entrepreneurial ecosystem, funding teams with immigrant founders at the earliest stage of pre-seed and seed. Maria joined the fund in 2015, during her time she has been involved in all 38 investments and has evaluated more than 2,500 deals. In 2018, she was first Latina named Forbes 30 Under 30 for Venture Capital and Business Insider's Under 30 Rising Stars. Her support for the Latinx community also won her the the 2017 California Hispanic Chamber of Commerce Shark of Year.
Previous to joining Unshackled, Maria worked at FWD.us an immigration lobbying group founded by Mark Zuckerberg, Bill Gates, Ron Conway, Reid Hoffman and other tech leaders. She attended UC Berkeley where she studied Government and Legal Studies.
Adriana Saman

Senior Associate, Clocktower Technology Ventures
Adriana is a Senior Associate at Clocktower Technology Ventures, where she focuses her attention across all sectors, including Latin America-specific investments.
Prior to Clocktower, Adriana was a Strategy Associate in Chase's Digital Payments team where she worked closely with all consumer-related payment products to develop consolidated roadmaps, business cases, and strategic initiatives. Before joining Digital Payments, she worked at J.P. Morgan as an Investment Banking Analyst focusing on M&A transactions across Latin America. Adriana is originally from Ecuador and holds a BA in Political Science from the University of Pennsylvania.
Luis R. Sanchez

Vice President, Adelante Capital Management
Luis R. Sanchez is Senior Vice President, responsible for company-specific research and portfolio strategy. Mr. Sanchez joined the firm in April 2005. He has over 33 years of experience in the commercial real estate lending markets.
Prior to joining Adelante, Mr. Sanchez was a Principal at Prudential Mortgage Capital Company, LLC, a subsidiary of Prudential Financial. He received his B.S. in Architectural Engineering from The University of Texas at Austin and an M.B.A from the University of Southern California.
Michael Silva

Investment Officer, CalPERS
Investment Officer with Investment Manager Engagement Programs in the Investment Office at CalPERS. Michael works to identify new investment manager talent across asset classes. Specifically, he is focused on Emerging and Transition Manager Programs and investment initiatives across Private Equity, Global Equity and Real Estate. In addition, he acts as a liaison between the Investment Office and our Office of Public Affairs, as well as to our stakeholders and advocacy groups.
Robert Sinclair

CIO, Private Family Office
Robert Sinclair specializes in ESG (environment, social & governance), strategy, change management, due diligence, risk and digital transformation.
For more than 20 years, he has owned his own firm and held executive roles and advised small and multinational firms, pension funds, military, investment funds and SFO's. He is currently Board Advisory Member for CrowdSmart (AI firm), and for charities such as Operation Water, TF Canada and is an Executive Member of Climate Solutions prize initiative. Senior Business Adviser for Inno-Centre and Managing Impact Advisor for DGC Capital.
Robert Sinclair holds a degree in applied science from Western Sydney University, Australia, and led the team that won the BOMA Pinnacle Innovation award in 2003 for an online ESG risk management system.
Kirk Sims

CFA, Director, Head of Emerging Manager Program, Texas TRS
Kirk Sims heads TRS' Emerging Manager Program. Since being established in 2005, TRS has committed $4.4 billion to one of the largest programs of its kind. An additional $3.1 billion has been invested directly with EM Program graduates. Each graduate was selected as a result of consistent outperformance among a group of more than 160 EM managers. Recognizing the Program's success, in early 2019, TRS rolled out a plan to invest another $3 billion over the next three to five years.
Sims joined the Teacher Retirement System of Texas on March 1, 2019. Before joining Texas Teachers, he was a Senior Investment Officer for the Teachers' Retirement System of the State of Illinois. Sims had oversight and management responsibility of TRS's Emerging Manager Program, a $750 million evergreen pool of capital designed to identify and invest in emerging investment managers across all asset classes.
Prior, Sims worked at Prudential Retirement where he was responsible for a manager of manager's retirement platform as well as an open architecture investment platform. He also has a background in asset management and has held various positions with both large and small asset managers.
Sims is a CFA charter holder and holds a Masters in Business Administration from the Columbia University Graduate School of Business. He received a Bachelor of Business Administration from Howard University in Washington, DC.
Corinne Tapia Babcock
Commissioner, Los Angeles Fire & Police Pensions (LAFPP)
Corinne Tapia Babcock is business owner and licensed real estate broker in the state of California.  She is the CEO and Broker-Owner, of Five Heights Realty Corp., a 100% woman and minority-owned real estate brokerage. She currently focuses on the greater Los Angeles real market, applying her own property investment acumen to all sales and acquisitions. Corinne is a mayoral appointed Commissioner on the Los Angeles Fire and Police Pension board – a $24B fund; and is a founding member of REĀL – Real Estate Association of Latinx Professionals in Commercial Real Estate. She is a proud member of the Latina Golfers Association, where she received the "Breaking the Glass Ceiling," award for her accomplishments in business on-and-off the golf course.  Corinne is a graduate of Georgetown University, and holds a certificate in real estate with a concentration in investments from the University of California, Los Angeles, and the USC Ross Minority Program in Real Estate Development.
Carly Tripp
CIO and Head of Real Estate Investments, Nuveen
Carly is Global Chief Investment Officer and Head of Investments for Nuveen Real Estate. Nuveen Real Estate is one of the world's leading investment managers with over $125 billion in assets under management. Globally, she leads a team of 200+ investment professionals responsible for all transactional and asset management functions. Carly is also a member of the Global Executive Leadership team.
Prior to her current position, Carly held several leadership positions across the firm, including CIO of the Americas for Nuveen Real Estate, Global Head of Real Estate and Alternatives for TIAA's $260 billion General Account, and Deputy Portfolio Manager on the TIAA Real Estate Account where she managed over $13 billion in transaction activity. Carly began her career at LaSalle Investment Management where she was a member of the portfolio management team.
Carly received dual B.S. degrees in Finance and International Business from University of Maryland and a M.S. in Economics from the University of North Carolina.
Albert Vazquez
Operating Partner, Sway Ventures
Albert is Operating Partner at Sway Ventures, a California-based venture capital firm investing in early to mid stage technologies companies with 75 software-related investments in Fintech, PropTech, Digital Health, Retail, Transportation and Logistics Tech. Sway Ventures incorporates ESG metrics and the UN's 17 sustainable development goals into the investment process.
Albert formerly served as Private Equity Operator with an industrial sensors $600M sales Carlyle portfolio company where he led Strategy, Marketing, ESG and Corporate Development. Albert early career was in Digital Transformation at Schneider Electric, later growing into P&L leadership roles in North America and Europe.
Albert earned his MS in Management Science & Engineering from Barcelona Tech, Spain. He's continued his executive education by completing an Advanced Management Program from IESE Business School and various Executive Programs through Harvard and Berkeley.
Albert has lived in Spain, France and Texas. He currently resides in San Diego, though you can find him often in Bay Area and Los Angeles.
Lu Zhang
Founder & Managing Partner, Fusion Fund
Lu Zhang is the Founder and Managing Partner of Fusion Fund, a renowned Silicon Valley based investor, a serial entrepreneur and a Stanford Engineering alumna. Lu is a World Economic Forum – Young Global Leader (Class of 2018), the Featured Honoree in VC of Forbes 30 Under 30 (2017), Silicon Valley Women of Influence (2018), Town & Country 50 Modern Swans – Entrepreneurship Influencer (2017), Top 10 All America Chinese Youth (2018) and was recently selected as the Best 25 Female early-stage Investor by Business Insider (2021). As one of the top female investors in America, Lu was featured in the book – Women Who Venture, and her story was a case study of UN Women Leaders in Action series. Prior to starting Fusion Fund, she was the Founder and CEO of a medical device company focused on non-invasive technology for the early diagnosis of Type II diabetes (acquired in 2012). Lu is a frequent speaker at tech events and conferences and also serves as a mentor and advisor to several tech innovation programs in Silicon Valley. Lu is the board member and chairman of the Youth Council of Future Forum and Future Science Award.
Below is a list of the organizations who have attended our past Investors Forums:
a55
Action Potential VC
Alameda County Employees' Retirement Association
Alaya Capital Partners
Aligned Partners
Artha Consulting
Asia CEO Community
Azure Development
Bank of the West
Barnes & Thornburg
BitGio, Inc.
Brainstorm Ventures
Breakaway VC
Calibrium AG
CalSTRS
Cambridge Associates
Carpenter Community BancFund
Chingona Ventures
Clearlake Capital Group
Cloverlay
Connective Capital
Core Capital Management
De Luna Partners
Diverse Communities Impact Fund (DCIF)
DWS Group
Early Growth Financial Services
East Los Capital
Emerson Collective
Fairview Capital
First Round Capital
Fusion Fund
Goldman Sachs
Iberus
IGNIA Partners
Illinois State Treasurer
Impact Experience/Illumen Capital
Indicator Capital
Kabouter Management
Kalei Ventures
Kapor Capital
Keystone National Group
LACERA
LACERS
Leap Global Partners
Lendistry
Logos Capital
LTX VC
madeBOS
Merrill Lynch
MiLA Capital
Mills College
Modesto Irrigation District
MSCI, Inc
New America Alliance
NextEquity Partners
Nilo Ventures
Northern Arizona University
Nuveen Investments
Ockham Associates
Office of the CIO of the Regents
Parkland Management Company
Plexo Capital
Private Family Office
Samsung NEXT
Silicon Valley Bank
Spitfire Capital
StepStone Group
Strategic Urban Development Alliance
Stray Dog Capital
Sunstone Partners
SV LATAM Capital
Sway Ventures
Teacher Retirement System of Texas
The 22 Fund
The Bueno Group
The James Irvine Foundation
TheVentureCity
Ulu Ventures
University of California Regents
Unshackled Ventures
Upwelling Capital
Upwork
VC Include
Venture Network
Vicker Ventures
Vulcan Capital
Wells Fargo Advisors
Plus a handful of family offices and private investors
A partial list of prior keynote speakers and participating asset allocators, government agencies, and educational institutions is below:
Keynote Speakers
Anne Mathias, Macro Strategist, Senior Managing Director, Guggenheim Partners
Antonio Villaraigosa, 41st Mayor of Los Angeles
Gilbert Garcia, Managing Partner, Garcia Hamilton & Associates, LP
Gustavo Arnavat, Former U.S. Executive Director, Inter-American Development Bank
Henry Cisneros, Former U.S. Secretary of Housing and Urban Development
John Chiang, California State Treasurer and Trustee, California Public Employees' Retirement System and California State Teachers' Retirement System
Josh Gotbaum, Director, Pension Benefit Guaranty Corporation
Luis A. Aguilar, Commissioner, U.S. Securities and Exchange Commission
Rosie Rios, United States Treasurer, U.S. Department of the Treasury
Steve Westly, Former Controller of California; Managing Partner, the Westly Group
Sylvia Bell, Managing Director, Teachers' Retirement System of Texas
Institutional Investors (Trustees, CIOs, Portfolio Managers, & Senior Staff)
Atlanta General Employees' Pension Fund
California Department of Insurance
California Public Employees' Retirement System
California State Teachers' Retirement System
Chicago Teachers' Pension Fund
Colorado Public Employees' Retirement Association
Edison International, Pension Arm
El Paso Firemen's and Policemen's Pension Fund
Fire and Police Pension Association of Colorado
Fire and Police Pension Fund of San Antonio
Illinois Municipal Retirement Fund
Illinois State Board of Investment
Illinois State Treasury
Los Angeles City Employees' Retirement System
Los Angeles County Employees Retirement Association
Los Angeles Fire and Police Pensions
Metropolitan Transit Authority of Harris County, Non-Union Pension Plan and Trust
Nevada Public Employees' Retirement System
New Mexico Public Employees' Retirement Association
New York City Employees' Retirement System
Policemen's Annuity and Benefit Fund of Chicago
Santa Barbara County Employees' Retirement System
Service Employees International Union
St. Ignatius Endowment
Teacher Retirement System of Texas
UAL-MEC Pilots Retirement
UCLA Investment Company
University of California Retirement System
University of Michigan Endowment
Virginia Retirement System
Government Institutions
Board of Governors of the Federal Reserve System
Inter-America Development Bank
New York City Comptroller
Pension Benefit Guaranty Corporation
San Francisco Federal Reserve
U.S. Department of Commerce
U.S. Department of the Treasury
U.S. Securities and Exchange Commission
U.S. Small Business Administration
Academic Institutions
Loyola Marymount University
Michigan State University
University of Maryland